Bond Bias ply (B.P) Patch
Bond Bias ply patch can be used for cut repairs, this gives best strength, flexibility and excellent superior construction over the tyres and every tyre cut repair patches is permanent and safe. Bond bias ply patch gives long life for cut repair tyre.
All the Bond Bias patches repairs are Manufactures with Nylon Code Fabric with a ply of rubber between the fabric and white Cushion gum which Act as for strengthing Material for a Ply.
Bond Bias ply Repair patches are available in various sizes with flexible structure.
Note- Do not install Bond repair patch unit over open injuries.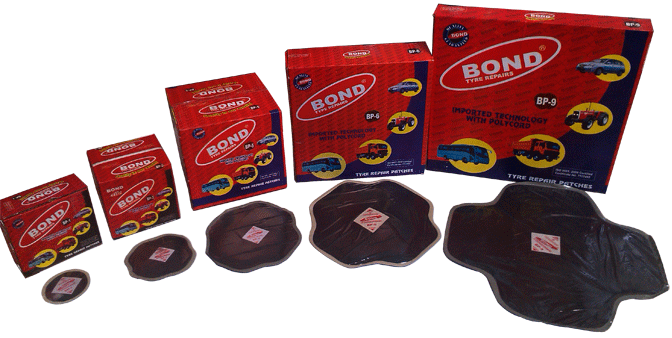 Car, Truck & Earthmover Size of Injury - Tread Shoulder and sidewall
mm.
Inches
3
1/8"
5
1/4"
10
3/8"
15
1/2"
20
3/4"
25
1"
40
11"
50
2/2"
65
21/2"
75
3"
100
4"
125
5"
4
0OT
1OT
2OT
3OT
BP3
BP3
BP4
BP5
BP6
6
0OT
1OT
2OT
3OT
BP3
BP3
BP4
BP5
BP6
8
0OT
2OT
3OT
3OT
BP3
BP4
BP4
BP5
BP6
10
0OT
2OT
3OT
BP3
BP3
BP4
BP5
BP6
BP6
BP7
BP8
12
0OT
2OT
3OT
BP4
BP4
BP4
BP5
BP6
BP6
BP7
BP8
14
1OT
2OT
BP3
BP4
BP4
BP5
BP6
BP6
BP7
BP7
BP8
BP10
16
1OT
2OT
BP4
BP4
BP5
BP5
BP6
BP6
BP7
BP7
BP8
BP10
18
1OT
2OT
BP5
BP5
BP5
BP6
BP6
BP7
BP8
BP8
BP9
BP10
20
1OT
2OT
BP5
BP5
BP5
BP6
BP7
BP8
BP8
BP9
BP9
BP10
22
1OT
2OT
BP6
BP6
BP6
BP7
BP8
BP8
BP8
BP9
BP10
24
1OT
2OT
BP6
BP6
BP6
BP7
BP8
BP8
BP8
BP9
BP10
Farm - MIP - Tractor
mm.
Inches
3
1/8"
5
1/4"
10
3/8"
15
1/2"
20
3/4"
25
1"
40
11"
50
2/2"
4
0OT
1OT
2OT
3OT
4OT
BP4
BP4
BP5
6
0OT
1OT
2OT
3OT
4OT
BP4
BP4
BP5
8
0OT
2OT
3OT
3OT
BP4
BP4
BP4
BP5
10
0OT
2OT
3OT
BP4
BP4
BP4
BP5
BP6
12
0OT
2OT
3OT
BP4
BP4
BP4
BP5
BP6
14
1OT
2OT
BP4
BP4
BP4
BP5
BP6
BP6
16
1OT
2OT
BP4
BP4
BP5
BP5
BP6
BP6
Reinforcement Repairs
mm.
Inches
5
1/4"
10
3/8"
15
1/2"
20
3/4"
25
1"
40
11/2"
50
2"
65
21/2"
75
3"
100
4"
125
5"
8 To 12
1OT
2OT
3OT
40T
BP4
BP4
BP5
BP5
BP5
BP7
BP8
14 To 18
1OT
2OT
3OT
BP4
BP4
BP5
BP6
BP6
BP6
BP7
BP8
20 To 24
1OT
3OT
BP4
BP5
BP5
BP6
BP7
BP7
BP7
BP8
BP9